Transportation to Jyväskylä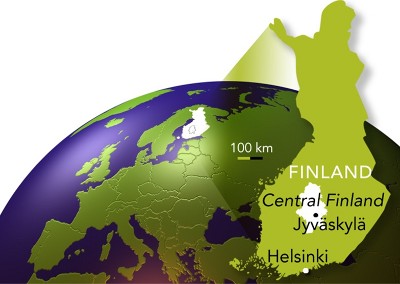 The Jyväskylä Region is located in the middle of finland, and can be easily reached by road, rail, and air.
Helsinki is home to an active international airport from which six daily flights depart to Jyväskylä. For more information on air connections, please see Finnair.
There is a possibility of taking a bus directly from the Helsinki-Vantaa airport to Jyväskylä, but this option is not particularly fast. To see bus connections, refer to Matkahuolto.
To get to the city centre from the Helsinki-Vantaa airport, bus number 615 connects the airport and the central railway station. Bus number 61 connects the airport and Tikkurila railway station, situated to the north of Helsinki.
From these locations, a Pendolino train will transport you to Jyväskylä in approcimately three hours. For more information on train connections, please see the VR website.
The prices of both train and bus connections between Helsinki and Jyväskylä are around 50 euro in each direction.
If you arrive by air, connections between the local airport and the city are only offered by taxi services, and no bus connection is available. To call for a cab from the airport, use the number +358 10 06900. A regular price from the airport to city centre is around 40 euro.
Transportation to workshop venue
The rail and coach stations in Jyväskylä are conveniently situated in a single Travel Centre (Matkakeskus) building. Please see the route from the Travel Centre to Hotel Alba and to the workshop venue.
Venue
The workshop will be held in the Department of Physics of the University of jyväskylä (map). The main spaces used will be the second floor lounge, the main lecture hall FYS1 and the lecture room FYS3.
The Department of Physics is located in the Ylistö campus, on the southern shore of Jyväsjärvi. All of these rooms are located in the same lounge. To reach the lounge, take an immediate left from the main doors and climb the stairs. The only door on the second floor will bring you to the lounge.
Links
Flights (Finnair)
Train connections (VR)
Coach connections (Matkahuolto)
Route from Jyväskylä Travel Centre to Hotel Alba, and then to the venue.